We have tested several LED's for brightness and believe to have found the best available. Send the gauges to us and be sure you have the brightest LED's around. You probably won't find equal LED's without a huge minimum purchase.
Lifetime warranty on all backlighting for as long as you own the vehicle.
Lifetime warranty on faceplates (If we do the installation only).
No risk of damaging your gauge cluster.
Your choice of colors.
Gauge Diagram: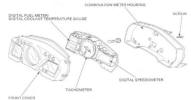 Colors can be combined for different effects.
Can be modified and returned to you within 2-4 days of receiving them.

NOTE #1: The indicators cannot be modified since each indicator is under a colored lens.


NOTE #2: This gauge uses a combination of LED's and bulbs to do the backlighting. Therefore, backlighting can only be modified in the LCD's of this gauge style. LED's are used in the 2 small LCD screens and bulbs are used to illuminate the tachometer. The only way to modify the tach is to use an illumiglo faceplate as we cannot modify the bulbs.

Note: This is a service, you must package and ship the gauge cluster to us to have this done. A "D-I-Y kit" is not available. (See FAQ Page for more.)
All prices in US$ and include return shipping
to USA via Priority Mail. (Ordering Details)
Custom Combos Available!
If you have a special request, request a quote.