2008
Aprilia Shiver SL750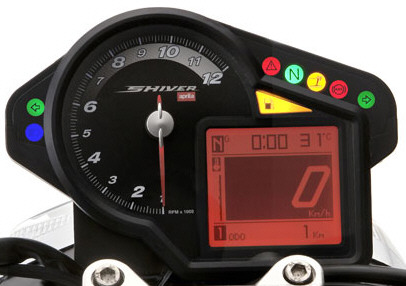 We need your help!
If you are the first to send us this gauge style, we will do the lighting modifications for only $10 to cover the cost of return shipping.

We have tested several LED's for brightness and believe to have found the best available. Send your gauges to us and be sure you have the brightest LED's around. You probably won't find brighter LED's without a huge minimum purchase.
Military quality soldering.
No risk of damaging your gauge cluster.
Your choice of colors.

[gauges specific notes]

Can be changed and returned to you in 24-48 hours.
Lifetime warranty on all work for as long as you own your vehicle.

Note: This is a service, you must package and ship the gauge cluster to us to have this done. A "D-I-Y kit" is not available. (See FAQ Page for more.)

All prices in US$ and include return shipping
to USA via Priority Mail. (Ordering Details)

Custom Combos Available!
If you have a special request, request a quote.
Additional options:

Custom Turn Signals, High Beam,
Neutral Indicators Available!


$5.00 Each



Express Mail Shipping Upgrade

(Priority mail return shipping is included in the price.
This option is only if you want it shipped faster.)

$25.00 (Usually overnight)