2004-2007 Nissan 350Z
Note: Backlight mods on this gauge require that the factory
faceplates be replaced with an aftermarket design that is
not tinted. We recommend http://www.blackcatcustom.com
They have high quality custom faceplate kits which can be shipped
directly to us for free installation with backlighting purchase.
All backlighting prices include: Fuel, Temp, Tach, Speedo, Oil,
Battery, digital LCD, window buttons, door lock buttons,
climate control knobs, free faceplate installation, calibration of
needles, and return shipping by insured priority mail.



#350Z1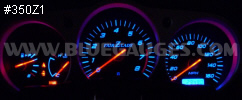 All Blue (Shown with custom faceplate - Not included)
($245)




All Red ($245)



(Stock Color)


#350Z4



All Green (Shown with custom faceplate - Not included)
($245)


#350Z5



All White (Shown with custom faceplate - Not included)
($245)



We have tested several LED's for brightness and believe to have found the best available. Send the gauges to us and be sure you have the brightest LED's around. You probably won't find equal LED's without a huge minimum purchase.

Military quality soldering.

No risk of damaging your gauge cluster.

Your choice of colors.

Colors can be combined for different effects.

Due to the difficulty of this gauge, please allow us up to 1 week to complete your order.

Note: This is a service, you must package and ship the gauge cluster to us to have this done. A "D-I-Y kit" is not available. (See FAQ Page for more.)
All prices in US$ and include return shipping
to USA via Priority Mail. (Ordering Details)
Custom Combos Available!
If you have a special request, request a quote.

Other options:

Add Navigational Control Panel
$65.00 (Stock=Yellow)




Warning Indicators
$5.00 (each)

Battery, ABS, Airbag, Seatbelt, Brake, Tire pressure, etc...



Express Mail Shipping Upgrade (350Z Gauges only)
(Priority mail return shipping is included in the price.
This option is only if you want it shipped faster.)
$50.00 (Usually overnight)